Past Present and Future
Wednesday July 22, 2020 1300-1400 GMT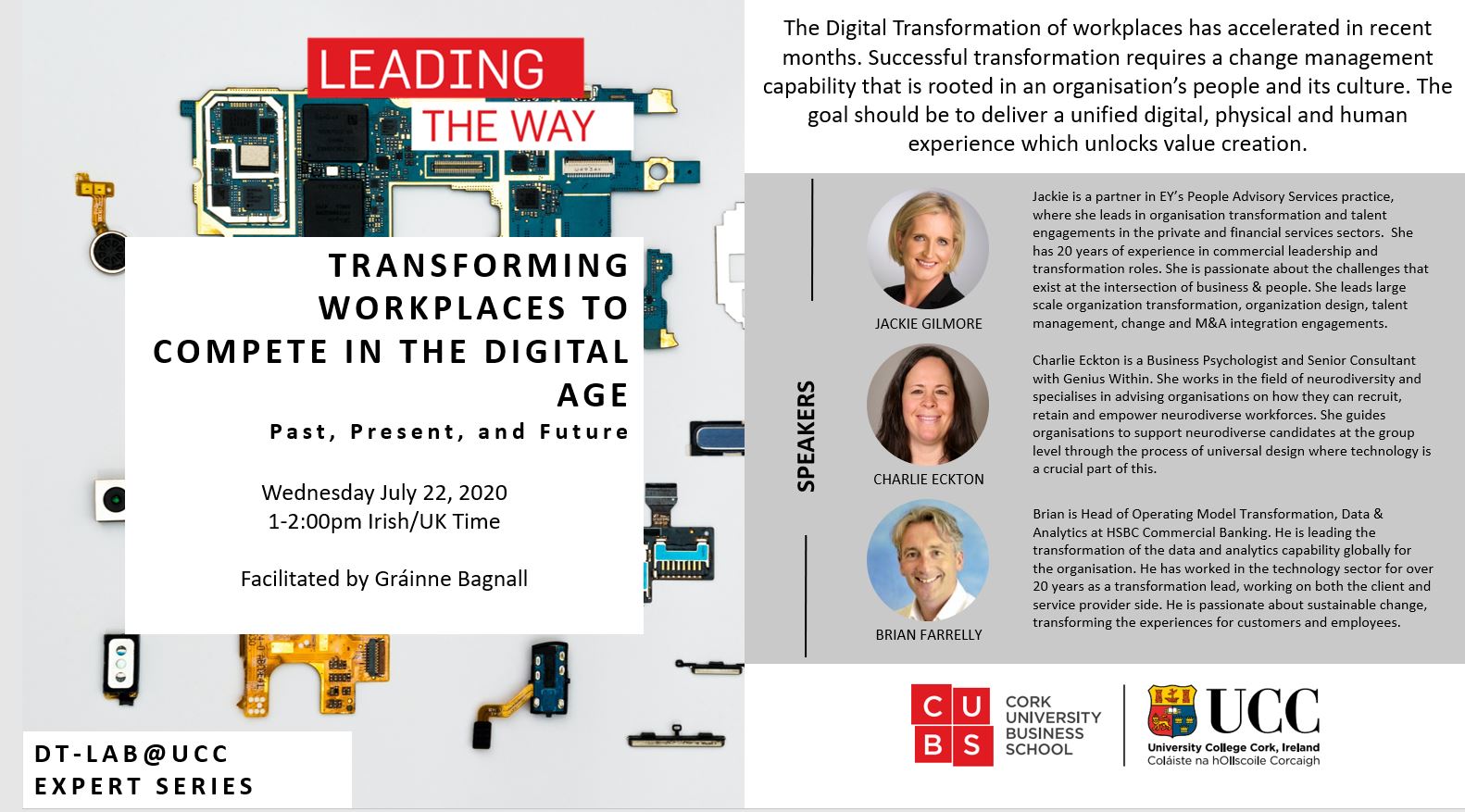 Webinar to be faciliated Facilitated by Gráinne Bagnall. JUly 22 nds 1 pm Dublin.
Digital transformation is transforming workplaces and is essentially about change management, and change management is essentially about people. The goal of workplace transformation is to deliver a unified digital, physical, and human experience that promotes efficiency and effectiveness … and increasingly diversity, wellbeing, and sustainability. In this event, we will be joined by experts in exploring the latest trends in Workplace Transformation.
Jackie Gilmore: Jackie is a Senior Executive in EY, with 20+ years working in industry leading organisations in Professional Managed Services, Financial Services and Technology Consumer. Commercially driven with exceptional strategic, sales & marketing, business development, change management, organisational design, HR and talent strategy, financial management, programme & product management skills.
Charlie Eckton: Charlie is a Business Psychologist and Senior Consultant with Genius Within. She works in the field of neurodiversity and specialises in advising organisations on how they can recruit, retain and empower neurodiverse workforces. Genius Within guides organisations to support neurodiverse candidates at the group level through the process of universal design where technology is a crucial part of this.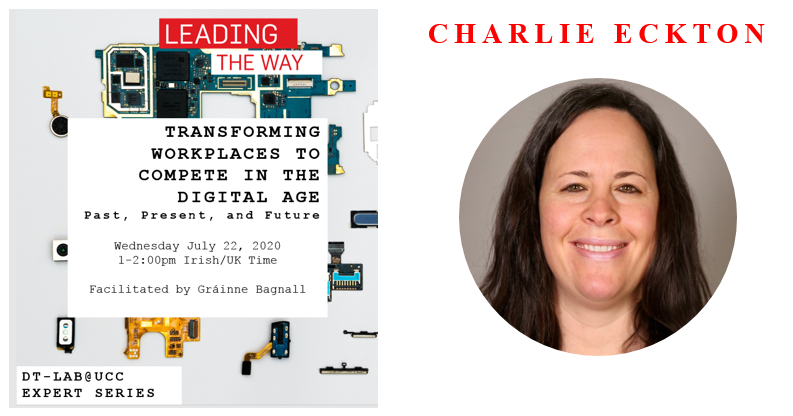 Brian Farrelly: Brian is Head of Operating Model Transformation at HSBC where he supports and enables the transformation of their data and analytics capabilities across the business globally. He previously served as Head of Technology Partner Management at AIB. He is passionate about solving business problems and opening up new areas of opportunities.
Register on Eventbrite: https://www.eventbrite.com/e/master-series-transforming-workplaces-to-compete-in-the-digital-age-tickets-112572320842
Join us for this and future events in the DT-LAB@UCC Expert Series – A 6-part series that is covering digital leadership, strategy, disruption, transformation, innovation and accessibility. This series is about exploring and learning from the latest industry and academic thinking. The events invite experts to share their views and to allow plenty of opportunity for those views to be explored and questioned by our audience.
The Digital Transformation Lab organised by UCC (DT-LAB@UCC) is a network of stakeholders (that includes senior professionals but also researchers, consultants, and communicators) interested in developing, validating, and sharing best practices in Digital Transformation. We do this through: (1) supporting peer-to-peer learning within the network; (2) undertaking and sharing research findings; (3) organising regular online and face-to-face networking events; (4) organising thought leadership events and masterclasses; and (5) using podcasts, blogs, and social media activities to share our message.
Follow the Digital Transformation lab online at:
https://www.facebook.com/groups/digitaltransformationlab
https://www.linkedin.com/company/digital-transformation-lab-ie/
https://www.youtube.com/channel/UCP_jJ11Q9fM6HXgOxsUYJNg
---
---
Categories: Fututure of work